BRMC. Love those leather clad dudes. And for the record Peter Hayes really drives a black motorcycle. I've seen it.
BRMC and
Little Radio
have a long history together. They're buddies, and BRMC are such good mates that they're going to shoot their next video for "Berlin"
at
Little Radio. For those of you who don't know what Little Radio is (NY is off the hook... kinda), it's an awesome company that has a few different incarnations. Firstly, it's a web-based radio station that plays awesome music and has DJs like Annie Hardy from
Giant Drag
on their Monday night show GTFU, Anne Lee from
Princehouse Records
, and man about town DJ Myles Hendrick (also of
Bloodcat Love
.
They are also a rad music venue in the arts/warehouse district of downtown. I've seen Sonic Youth there. It blew my mind. And, now BRMC will be playing the stage. Check out the info below: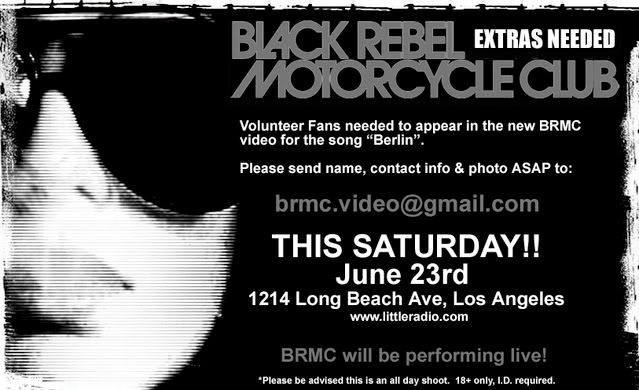 Also, I'm sure most fo you now about the internet radio rates inflation of royalties. PLEASE help stop this bill from passing, otherwise Little Radio probably won't be able to do cool events like this anymore. Go here to help out!
SaveNetRadio.org
x, LA Broad