Holy shit...what amazing news. After catching Carl and Pete staying in Kate Moss' house while she's been in LA who would have thought they would appear on stage together a couple of days later?
Tonight at the Hackney Empire for the "An Evening With Pete Doherty" gigs the evening ended up having a very special surprise! Carl Barat joined Pete on stage for 13 songs.
The reunited pair played:
'What A Waster'
'Death On The Stairs'
'The Good Old Days'
'What Katie Did'
'Dilly Boys'
'Seven Deadly Sins'
'France'
'Tell The King'
'Don't Look Back Into The Sun'
'Dream A Little Dream Of Me'
'Time For Heroes'
'Albion'
'The Delaney'
What I wouldn't have given to be at that gig.
Thanks to
NME.com
for providing the set list and glorious information
NY Broad x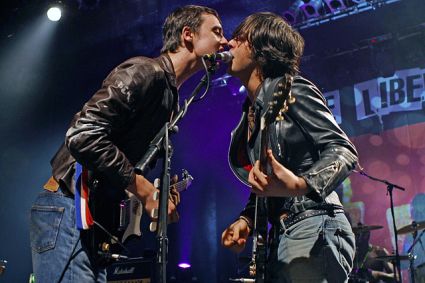 *just for nostalgic purposes